Traditional Chinese Foot Massage

Traditional chinese foot massage has the ability to treat the whole body from the feet through the use of specific pressure and massage of acupuncture points of the lower part of the legs and feet.
In China, the earliest known documentation of reflexology dates back to the fourth century BC, when it was practiced in conjunction with acupuncture by a doctor name Wang Wei. While one of the benefits of a good foot massage is a general feeling of relaxation, reflexology is an exact science with larger goals.
Reflexologists must be schooled in applying pressure in precise locations to best aid patients. Specific areas of discomfort on the foot tell the therapist a great deal about the health of the patients internal organs. Like most Eastern medical techniques, reflexology concentrates on treating the whole person rather than just the symptom of one particular ailment.
Benefits include:
Improve digestive function
Reduces numbness of lower limbs
Improves sleeping patterns
Strengthens the immune system
Reduces stress
Reduces foot pain
Improves circulation
Reduces swelling of the lower extremities
And more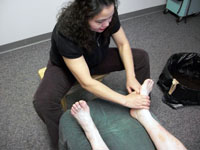 Our staff person, practicing under the direction of Dr. Kuenzel, was fully trained in Nanning, China at the Traditional Chinese Medicine Hospital. In China this treatment is part of the normal hospital treatments as is acupuncture.
Call 573-883-2442 today and schedule a Traditional Chinese Foot Massage and start feeling better!!!